NIKYOKAN is an open and plural space that promotes the teaching, development and growth of the Japanese performing arts in Argentina.
It is a place for anyone who is interested in Japanese performing arts.
Our mission: to be a bridge between Argentina and Japan through the Japanese performing arts.
Our vision: to be a place of reference when we talk about culture and performing arts of Japan.
In pursuit of this objective, we offer the community:
Regular and intensive courses with genuine Japanese instruments, by teachers carefully chosen according to their training, experience and background.

Workshops and performances with professional artists from Japan and the rest of the world.

Specialized bibliographic and audiovisual material for consultation and research on the culture and performing arts of Japan.

Other activities for a better understanding, approach and development of the Japanese art and culture in Argentina, such as conferences, collaborations in events of the Japanese community and others.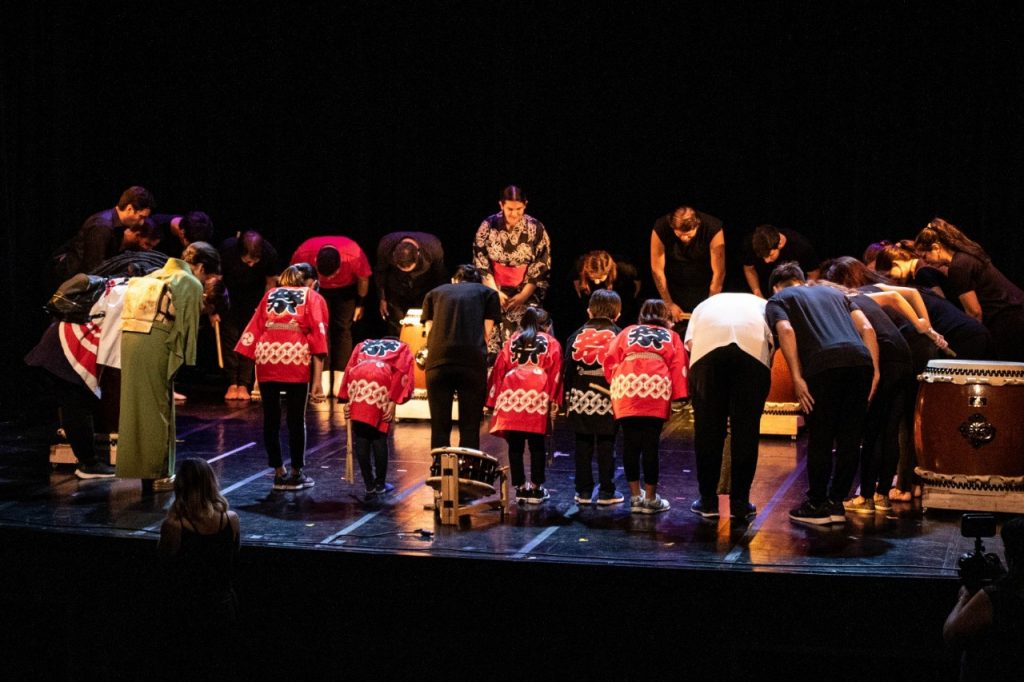 THE MEMBERS OF NIKYOKAN WANT TO CONTRIBUTE, TO PROMOTE THE STUDY OF JAPANESE ARTS NOT YET EXPLORED IN ARGENTINA AND TO BE COMPLEMENTARY TO THE ALREADY EXISTING CULTURAL OFFER.
What does NIKYOKAN mean?
Our name is made up of three Japanese ideograms (kanji) which mean,
仁 (NI): Benevolence (humanity)
響 (KYO): Resonance (sound)
館 (KAN): Place
Benevolence is a trait of the human being that significantly characterizes the idea of ​​our space, since the good intentions and support of many people are the backbone of the project, and we know that it was not only in the origins but that this will be the engine of this space now and forever.
NIKYOKAN is the confluence of humanity and sound in one place.
If you really pursue something, you can achieve it.
In 2015 our "Japanese Cultural Center" project was born in response to the need for conditioned spaces, innovative methods and genuine materials that promote the teaching, development and growth of the existing Japanese performing arts and promote those not yet explored in Argentina.
In 2016, given the personal relationship existing between our Director, Gastón San Cristóbal, and the President of Asano Taiko Japan, Akitoshi Asano, the support of Asano Taiko Japan materialized in the larger fleet of professional drums in South America is obtained.
The same year, the President of Asano Taiko Co., Ltd. 浅野太鼓楽器店 sponsors our Cultural Center by giving the name NIKYOKAN to the project.
What started as a dream came true.
In 2017 the drums and other instruments finally arrived to Argentina.
In 2018 NIKYOKAN The house of Japanese Performing Arts opens.
"Ideas move the world, but not before they transform into feelings." 
Gustavo Le Bon
We will forever be grateful to those who trusted and made their contribution so that NIKYOKAN exists today:
Akitoshi Asano, Ritte Asano and Sumiyo Asano from Asano Taiko Japón, Katsuji Asano, Julia Asano and Yuta Kato from Asano Taiko US and Los Angeles Taiko Institute (LATI), Yuji Kuramochi, Tomoko Sasaoka, Delia Mitsui, Victor Yonagi, Roxana Nakandakari, Julián Vecco, Jason Kung, Ramiro Bustos, Kai Iwasaki, Shinzui Daiko, Asociación Japonesa de Posadas, Asociación Japonesa de Pirapó and who helped us to bring all the drums to Japan: Naomi Asato, Narda Gomez, Shigeki Yoshizato, Rosa Yoshizato, Florencia Melián Leon, Megumi Sawa, Julián San Cristóbal and Tito.